Nami was found with Nojiko on a battlefield by a marine named Bell-Mere. Nojiko, being very young and holding the baby Nami in her arms, stumbled to Nojiko. When asked about Nami, Nojiko simply replied that she had found her. From that day, Bell-Mere adopted both. All three grew together as a family in Cocoyashi Village.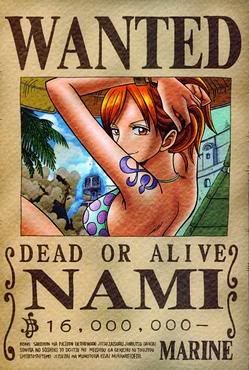 Nami
Position Navigator
Age 17
Birthday July 3rd
Height 172 cm
Bounty 16,000,000 Belli
Devil Fruit N/A
Dream To gather 100 million bellies. To draw a map of the world.