Chopper for short is from Drum Island, was first a normal reindeer. However, he held something all the other reindeer did not have: A blue nose. This nose caused the other reindeer to be mean to him and disregard him.

But one day, his normal reindeer life changed completely. Chopper unknowingly ate the Hito-Hito no Mi (Human Human Fruit or Person Person Fruit). This fruit gave him the amazing ability and traits of a human being. Because of this, he was teased and hated even more by his herd, and now knowing this because of his newfound intelligence that grew with the fruit, he left the herd to go somewhere on his own.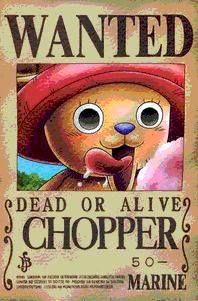 Chopper
Position Doctor
Age 15
Birthday December 24th
Height 172 cm
Bounty 50 Belli
Devil Fruit Hito Hito no Mi (Person Person Fruit or Human Human Fruit)
Dream To be able to cure any disease, even a pandemic held by an entire country, and to explore the world with his friends.